My assessment of the players of Manchester United Football Club during the 2011-12 season....
As the clock ticked inexorably into injury time I finally allowed myself to believe. We were going to do it. Somehow despite all the odds, we were going to do it. This team, Fergie's worst in twenty years©, were about to secure United's twentieth title and in the process break the hearts of those noisy neighbours from the council house.
Minutes later I sat agog, bereft. What had just happened? The answer was we had been given a taste of our medicine. For Bayern '99, Sheffield Wednesday '93 and Tottenham '01 now add city '12 to the list. Except this time we were on the receiving end, and boy did it hurt. How did our players react to such a cruel blow? I have no idea, currently in the middle of a prolonged media blackout I may never know how they felt as the pint-sized Argentine consigned us to a summer of sorrow and lament. But I know how I feel about them. I may not have been able to watch them slump to the turf as nine months hard graft slid agonisingly away but I'd watched them right up until that terrible last act. I'd watched them enough to form an opinion on how they'd performed. So here it is.
David De Gea
"God he's a bit thin isn't he"? "Definitely too thin to be a keeper, especially in England"! "What will happen when we play at Stoke"? And so began DDGs career in England. Just 20 years of age and with no experience of English football he was always going to face scepticism from the traditionalists. We had gone from having a dependable elder statesman to having a doe-eyed tyro in the space of a few months. This was going to take some getting used to.
His start certainly didn't help. Rudimentary errors against city and West Brom in his first two games were fortunately wiped out by match winning performances but already the knives were out. We backed our young Spaniard to the hilt but who among us didn't harbour our own doubts? A period of relative consistency settled both ours, and De Gea's nerves, and it seemed all was well. Wrong. Bullied by Blackburn and demoralised at Anfield it looked like Dave was heading the same way as the many that had tried, and failed, to fill Schmeichel's gloves. Dave's stock was at rock bottom. Time to take him out they said, bring in the dependable Lindegaard. But an injury to the Dane meant we were stuck with the browbeaten Spaniard. And that was that.
Faced with the option of either sinking or swimming, Dave swam. He swam his little heart out and the young, tormented custodian of the winter months blossomed into a confident, almost cocky, goalkeeper. There was still the occasional error, but that's just part of a keeper's life. Dave had come good. He had walked through the valley of death and lived to tell the tale. He is ever so thin though.
Rating: 7
Highlight: Announcing to the world that he and his girlfriend 'enjoy' his beard. I enjoy it too.
Lowlight: Feebly grasping the Mancunian air for a ball that was never his as Blackburn scored their third, and ultimately the winning, goal at Old Trafford on New Year's Eve.
Anders Lindegaard
For a time last season Lindegaard benefited from simply not being David De Gea. As the young Spaniard lurched from one disaster to the next there was a groundswell of support for the Dane to become our number one keeper. This was despite many Reds having barely seen him in action. True he had performed admirably in Lisbon as United gained a valuable away point but his other appearances had been in largely uneventful one-sided United victories. As fate would have it Lindegaard picked up an injury just as his big chance looked to have arrived. And from that point forwards we saw the blossoming of the previously nervy De Gea. Lindegaard will remain our number two but he is arguably the best back up keeper United have ever had.
Rio Ferdinand
Rio played 29 league games this season, the most he's managed since 2007/08 which ended with United winning the League and Champions League double. My question is this: why did he have wait until Vidic got injured to figure out his injury problems? Does he secretly dislike the Serb? Thus explaining why he's featured so rarely in recent years. Whatever the reasons it was good to have the wobbly gobbed one back in the fray albeit without our club captain at his side.
At the time of writing Ferdinand has just been omitted from the England squad for the European Championships surely bringing an end to his international career. He's thirty three now so although he might be unhappy to miss out on England's progression to the quarter finals before being knocked out on penalties it's probably for the best really. He's unlikely to have the longevity of Giggs or Scholes but another couple of years in United's back four is the least we can expect.
Rating: 7
Highlight: Going up for a corner against Bolton in January. You are allowed to enter the opposition box occasionally Rio.
Lowlight: The defensive mix-up which allowed Jelavic to score Everton's third goal in the game which effectively cost us the title.
Jonny Evans
Why is there no 'H' in your name Jonny? The only other person I know with an H-less Jonny is Jonny Wilkinson and he seems to be a right twat. Sort it out Johnny. See what I did there? Bit of a breakthrough season for the young (he's actually 24 now) Northern Irishman though. His sending off in the home game against city was the final straw for many fans. And when Vidic got injured we all wondered who would be the one to partner Rio. Smalling? Jones? William Prunier? Nope none of them. Up stepped Jonny and like De Gea he flourished with the knowledge that his place in the team was safe and he wasn't going to be dropped at the first sign of nerves.
How good is Evans though? At one point during a particularly decent spell of form Fergie was moved to call him "the best defender in the country". Whoa steady on there Sir Alex! Titus Bramble is still playing these days didn't you know? Evans is an excellent centre back. Quick in the tackle, confident on the ball and an excellent reader of the game he has all the attributes to be one of the game's best. But whether he can ever live up to the grandiose claims of his manager is another matter entirely.
Rating: 6
Highlight: His first goal in professional football at Wolves.
Lowlight: The aforementioned sending off in the derby game at Old Trafford with the score at 1-0. I'm not blaming Jonny for what happened though..........
Phil Jones
At one point during the game at Loftus Road against Queens Park Rangers I began to believe that Phil Jones might very well be the greatest footballer I had ever seen. One rampaging run after another had left the opposition bedraggled and wearied as they struggled to cope with the indefatigable young centre back turned midfielder. He was literally unstoppable (he may actually have been stoppable but if Jamie Redknapp can use that word out of context well so can I). Bobby Charlton had compared him to Duncan Edwards and right there and then I was willing to liken him to not only our tragic hero from the 50s but the Greek Gods into the bargain.
But then his form dipped. Only slightly at first. But then noticeably. He went from being a boisterous buffalo running riot on the plains of the Premier League to a meek little mouse unable to clear the first man with his crosses. He even got injured. You're supposed to break bones Phil but not your own. By the end of the season he looked like someone who couldn't wait for the season to be over. But sadly, unlike his defensive ally Rio Ferdinand, Phil Jones will be travelling to Polkraine this summer to watch England stumble and stutter for everyone's amusement. I'd imagine Fergie is already planning an extended break for the clearly jaded Lancastrian.
Rating: 6
Highlight: An assured midfield display in the League game at Anfield which enabled us to end our losing streak there.
Lowlight: Getting bullied by Ba at St. James in a rare outing at centre half.
Chris Smalling
Bit of a truncated season this one for Chris. He's officially the best Chris to ever play for United did you know that? Tell me a better one? Go on. Smalling is one of the few players in the current United squad that I buzz off when watching him play. I love the fact that he was plucked from relative obscurity into the harsh realities of Premier League football and barely batted an eyelid. When Fergie forked out £10 million for him there was many who wondered what he saw in the raw Maurice Moss lookalike but he fitted seamlessly into the United side whenever he played.
He showed his capability at full back this season as well but to my mind he is the long term successor to Rio when he finally calls it a day.
Rating: 6
Highlight: That cool little headscarf thing he wore against Bilbao which made him look a prisoner from a gritty Louis Theroux documentary.
Lowlight: Where's Kompany gone? Oh there he is. Oh shit.
Rafael
You can say what you like about the little barmpot but I love him. He just doesn't give two fucks. Up against the speediest winger in the League? Not a problem. "I'll just dive in and try and nick the ball away............oops.......not to worry I'll chase back now and get it off him...........there you go, told you I could do it............now I'll set off on the attack and most likely score a goal". He's mental the little Brazilian and has all the footballing brains of Rene Higuita..... on crack. His positional sense is diabolical and I'm convinced he has no idea what the offside rule is all about but he's still one of the most entertaining players in the United squad.
Rating: 6
Highlight: Finally convincing Fergie to send his idiot brother out on loan so he can get some peace and quiet while preparing for matches.
Lowlight: Unfairly blamed for the 4-4 draw against Everton the little Brazilian didn't feature again.
Patrice Evra
It says a lot about the irascible Frenchman that his most notable moment of the season came after the final whistle had blown in the game against Liverpool at Old Trafford. His full time histrionics in front of the Stretford End, and more notably Luis Suarez, were fully justified given the amount of injustice Paddy had to endure. And what United fan didn't rejoice in the sight of our left back giving it welly?
On the pitch however things have changed. The player who at one point was our most consistently brilliant performer has now lapsed into a different kind of consistency. These days Evra is consistently average. He's rarely awful but long gone are the driving, surging forwards runs of old. No more is Evra the nimble, athletic patroller of the left side of United's defence. He is now just another left back. Another run of the mill defender in a league full of them. Yes there are occasional moments of brilliance which remind us of the Evra of old but no longer is he the mainstay he once was and it could be argued that only his captaining of the side is keeping him in the team. A challenger to his position is needed and fast.
Rating: 6
Highlight: His merry jig in front of the Stretty which so angered the Liverpool players. Diddums.
Lowlight: An insipid performance in the Old Trafford derby which was later explained by the recent loss of one of his brothers.
Nemanja Vidic
It was bad enough losing Vidic for the majority of last season, now the fear is that he may never be the same player again. Time will tell how he recovers from his ruptured cruciate ligament injury. But having never been blessed with the greatest pace or mobility and now the wrong side of thirty there has to be some question marks over the future of our club captain.
Fabio
Did he even play last season? Apparently he started ten games but I'm fucked if I can even remember one minute he spent on the pitch last season. Also does anyone think he's starting to look less and less like his brother with every passing year? I can easily tell them apart now. And no not just by seeing which one is playing and which one isn't! Should be even easier to tell them apart from next season as Fergie is shipping the non-playing da Silva brother out on loan.
Michael Carrick
My United player of the season for 2011/2012. Yep the perennial scapegoat for all that is wrong with Manchester United Football Club had, what was for me, his finest season in a red shirt and deserves a little bit more recognition than he's got. From the time of his recall to the side in early December right through to the end of the season Carrick was our most consistent performer. Snuffing out attacks with a minimum of fuss, diligent use of the ball, contributing in both attack and defence without ever affecting the balance of the team, Carrick was a model of excellence throughout.
But because he doesn't go charging into tackles in the manner of more agricultural players or leave his post to go on fruitless sorties in search of a goal he's derided as a player who offers little. Carrick offers everything you can expect of a modern day central midfielder. His only crime is not being English enough in a league full of foreigners. Because make no mistake if he were called Michele Cariccione he would be one of the most feted players in English football.
Rating: 8
Highlight: Becoming even more unassuming that I previously thought. If he weren't a footballer Michael Carrick would clearly be one of the most forgettable people on the face of this planet.
Lowlight: Being overlooked for England duty at the Euros. Although he's probably better off in truth.
Anderson
Oh Ando how many more chances? Like a wife-beating husband we forgive and forgive the porcine Brazilian, always believing that this will be the time. This will be the time when the pain of the past will be forgotten and he finally comes good. And for a while it seems like our faith was justified. He zips up and down the pitch with his beautiful lardy arse poking out and we love him. We laugh as he scowls and smirks his way through games and we congratulate ourselves for having such patience.
Then the old problems rear their ugly heads. It starts with a hamstring injury and the promise that he'll return in a few weeks. A few weeks pass, where's Ando? Nobody knows. Chances are he has locked himself in the Old Trafford toilets with a year's supply of KFC and isn't coming out anytime soon. This particular wife has felt too much pain, got her hopes up far too often. Sling your hook Ando and make sure the door doesn't hit your fat arse on the way out.
Rating: 5
Highlight: A sublime goal against Spurs in the first game of the season, capping a man of the match display.
Lowlight: Attempting to eat his own weight in Kit Kat Chunkys and failing by a mere two bars.
Tom Cleverley
Did you know Tom Cleverley has his own website entitled TC23? On there you can read about and I quote "My Game", "My Life", "TC Community" and the rather intriguing sounding "TC23 Collection". Fuck me. How many games has he played for United? Imagine what he'll be like if ever becomes an established player? TC23. It sounds like a cream for haemorrhoids! "Ere luv get me the TC23 wilya me fookin arse is killin me"!!
I actually like Cleverley as a player though. A bit like Carrick he does the simple things well. Gets up and down the pitch and links the play quite cleverly (fuck I really thought I could manage it but I couldn't). But like his early season central midfield partner, Anderson, he appears to be made out of balsa and he never really recovered from the injury inflicted upon him by the great, lumbering oaf that is Kevin Davies. Or KD14 as he probably calls him. But let's just see if you're the real deal before you go adding to that website of yours eh Clevz?
Rating: 6
Highlight: Bagging a Page 3 stunnah for himself. I have no idea how long he's been going out with her but fair played to the lad, excellent exploitation of his status as TC23.
Lowlight: Filling the role of 'injured midfielder who could really improve the team' vacated by the departed Owen Hargreaves.
Paul Scholes
Why are you coming back Scholesy? Why risk ruining your legacy? It can only end badly you know? Just some of the questions that ran through my mind on the morning of the cup game at the council house which saw the return of the ginger ninja. It seemed like a step backwards for both club and player. The only plus point I could foresee was the subsequent end to the Manchester United career of Darron 'Potshot' Gibson. Scholes had retired for a reason and it seemed like a wise decision at the time. So why come back?
How happy I was to be proved wrong. After a jittery couple of games Scholes settled into the old routine. Invigorated by the break he was even better than we remembered. He even started getting forward again, popping up unexpectedly in the box like the 2000 vintage edition. He's now decided to stay on for another year. I still kinda wish he hadn't to be honest. This glorious swansong could have been the perfect finale to one of the all-time great United careers. But then what do I know.
Rating: 8
Highlight: All of it. Every single moment. From the dinked five yard passes to the long distance Scholesly specials.
Lowlight: A less than stellar second debut in the cup game at city.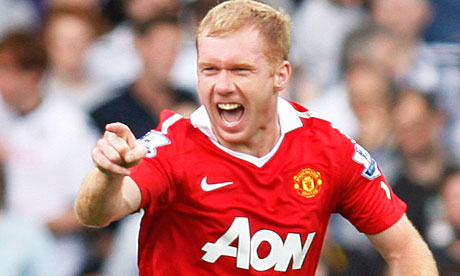 Darren Fletcher
Never the healthiest looking individual we finally discovered the cause of Fletcher's less than rosy complexion. Ulcerative colitis threatens to end the career of one of my favourite United players of recent years and its saddening to see such an honest, hard-working individual battle this illness while others at the club steal a living. I'm still allowed a joke or two at his expense though right? C'mon?!! Okay then I won't mention anything about Fergie not allowing Dazza anywhere near the dressing room during squeaky bum time or anything like that, I promise.
Nani
Why is that with Nani that you always feel he is on the cusp of something? On the cusp of being a world-class player. On the cusp of having a truly outstanding season. On the cusp of finally fulfilling his potential. On the cusp of bringing a halt to his mesmerising footwork and eventually crossing the ball. About to enter his sixth season at the club Nani has never quite developed into the player we thought he would become. The childish impudence which marks his game has never quite left him. He's still a fabulous footballer and one of United's biggest assets but there will always be question marks surrounding the Portuguese.
You only have to look at his goals and assists over the past couple of seasons to recognise his growing importance to this current United side. After Wayne Rooney he is our most effective attacker but you could argue that that is a sad reflection on the quality of our frontline rather than anything else. Despite missing a large chunk of the season through injury he still managed to average a goal every three games in the league which is an excellent strike rate for a winger. But still the doubts remain.
Rating: 7
Highlight: His two goals in the Community Shield against city way back in August.
Lowlight: The mid-season injury which curtailed his involvement at a crucial period.
Antonio Valencia
What can you say about Valencia? Is he really a Replicant? I certainly think so. When was the last time you saw him sweat or even look remotely tired? This season has undoubtedly been his best in a United shirt. And that is despite becoming more one-dimensional than ever before, his play is now so predictable that it is only half a dimension. But just because defenders know what he is going to do does that mean they can stop him? I'm afraid not. Once Tony gets the ball out on the right-hand side he will stop at nothing to ensure he gets in his cross. He draws the line at using his left foot though.
The arrival of Ashley Young looked set to consign the Ecuadorian to the bench as he and the mercurial Nani manned the flanks at the season's outset. But Replicants aren't prone to panic, or any emotion for that manner, and Antonio simply bided his time and waited his turn. And once he regained his place there was simply no stopping him. If possible he appeared even more implacable, even more indestructible, than before. But we know nothing about Valencia really. Yes Wikipedia may tell us some arbitrary facts about his career but do you really believe any of that? Someone, somewhere has the answers but for now Tony shall remain shrouded in mystery. Just the way he likes it.
Rating: 8
Highlight: The malfunction which lead to him shooting, scoring and celebrating at Blackburn.
Lowlight: Suppressing a giggle at one of Anderson's wayward shots during training.
Ashley Young
Upon signing Young many United fans breathed a sigh of relief. Finally that problematic left winger position would be filled adequately. I , like many others, just automatically presumed that Young was as comfortable on his left side as his right. I presumed that he would skip round the outside of full backs and ping in crosses for our grateful strikers to get on the end of. I was wrong. Young uses his left foot only marginally more than Tony Valencia. So why is he a left winger then? I'm still not sure to be honest.
Being so right footed and playing on the left wing means that Young tends to cut inside a lot. He goes down the outside, beats his man and comes back onto his right foot. Then maybe for good measure he'll do it all over again. Once he actually bumped into himself on the way back from checking inside. Young is far more dangerous from central positions and the quality of the goals he scored this season point to a player with the ability to strike and score from range almost at will. Already we have seen him play in a withdrawn striker role for England and you can't help but wonder how he would fare in a similar position for United. Don't ask me who we'll play on the left though.
Rating: 6
Highlight: An outstanding two goal performance against Arsenal in the early stages of the season.
Lowlight: That dive against QPR. Wasn't half dramatic enough for my liking.
Ryan Giggs
Is it sacrilege to say I think Giggsy's time is up? It's got to the stage now where you can't comment on his performance without bringing his age into the equation. His ability to even play at this level of football is remarkable for a man of his years (see I just did it there), but no way should he be starting games such as April's Manchester derby. If he is to remain then his appearances in the side should come in the form of an occasional cameo and no longer should we have to inwardly groan at the sight of his name on the team sheet for a crucial game.
He made his 900th appearance for United at Carrow Road this season and wouldn't you just know it he popped up with the winner in injury time. He is still capable of quality deliveries from his old haunt on the left wing, but like a boxer who has lost everything but his knockout punch that is one of the few things Giggs can still do effectively. He may prove me wrong, after all he's been doing it for years, but I think this glorious autumn period of his career is in danger of becoming a harsh, unforgiving winter. And no-one connected with Manchester United wants to see that.
Rating: 5
Highlight: Scoring at Fulham to keep up his record of netting in every season of the Premier League.
Lowlight: Missing out on the trip to Amsterdam. He would have loved the scenery.
Park Ji-Sung
As the hours ticked by and every United fan waited nervously for kick off at the Etihad there was many a rumour about the nature of our starting line up. Most were summarily dismissed for the wums that they were. Then the official teamsheet was announced and we wondered whether this was the sickest joke of them all. But no, there he was in all his inept glory: Park Ji Sung. Rarely can three words have been the cause of such acrimony among United fans. Some laud him for his work-rate and ability to find pockets of space but most see him as nothing more than an excuse to sell tickets in the Far East.
His performance in that fateful derby came as no surprise. Hopelessly off the pace he may have been but having not featured in the first team for over three months what else was to be expected? Over the years Park has forged a reputation as a player for the big occasion but some degree of match fitness is required to have a say in any game, big or otherwise. His future at United looks unclear, as at the wrong side of thirty he can no longer rely on an endless supply of stamina to prove his worth.
Rating: 5
Highlight: His customary goal against Arsenal in the 8-2 mauling.
Lowlight: The realisation that his time at United may be up.
Wayne Rooney
If the opportunity arises then I think Wayne Rooney should leave United this summer. With Barcelona clearly in need of a central striker there may be a once in a career chance for Rooney to join the Catalans and be surrounded by the kind of players his talents deserve. Obviously I hope this doesn't happen, he is after all our best player. But you can't help but feel like Rooney's peak years are in danger of being wasted at a club unable to match his ambitions. United and Fergie may make all the right noises but should another summer pass without some serious additions to the squad then Rooney has every right to question the club.
In the season just gone Rooney scored 34 goals. But at no point did you feel like he was the potent force of previous years. How often did he look to be enjoying his football? Surely he must look around at some of his team-mates and wonder would he be better served playing elsewhere. He has gone from being flanked by Cristiano Ronaldo and Carlos Tevez to having raw rookie, Danny Welbeck, and the bumbling Mexican, Javier Hernandez, as his main accomplices. While the club was still successful this wasn't a major issue. But now that city have formed a title-winning side how do United respond? More bargain bin buys courtesy of the Glazers simply won't cut it. Fail to respond in a sufficient manner and we could see the departure of one of the finest players to wear the shirt.
Rating: 7
Highlight: His new hair. It really is a thing of wonder. Not sure if I like his attempts to grow out at the end of the season though. Stick to what you know Waz.
Lowlight: Being forced into a midfield role during the winter months as our lack of options in that area was painfully exposed.
Danny Welbeck
Remember when you were a kid and you loved every single player on the team? You knew their date of birth, place of birth and favourite colour. They were idols to a man. Then as you got older you began to realise that very few of those players cared about the club in the same way you did. They talked of loving the club ,and in fairness they played like men who felt that way, but you knew they could never feel how you did. But every now and then a player comes along who truly seems to care. Eric was the obvious example. Young Danny is another.
There is nothing quite as satisfying as seeing a young player make the grade. If he also happens to be a local lad well then you can triple that level of satisfaction. Upon returning from Sunderland this was to be Welbeck's breakthrough season. And after a stuttering start that is exactly what it turned out to be. Strong as an ox, deceptively quick and the possessor of a great footballing brain Welbeck had an exceptional year. Perhaps not a natural finisher he does need to become sharper in front of goal but all that will come. Time is on his side and more importantly, the fans are on his side.
Rating: 7
Highlight: A vital match winning goal at the Emirates, celebrated in the manner of someone who really cared.
Lowlight: A barren run of eleven games without a goal before Christmas.
Javier Hernandez
We worried about it all summer. Would the Mexican take the necessary precautions or would he fall foul of that most terrible of illnesses. A summer spent playing for his national team did nothing to alleviate our fears. He returned a little later than the rest but once he got back playing everything seemed fine. Maybe he hadn't contracted the virus after all. But then as the season wore on our worst fears were confirmed. Yes that's right, the little pea had developed one of the most feared ailments for any footballer. The dreaded Second Season Syndrome.
If you were to judge Hernandez purely on his goals to games ratio then he didn't do too badly. 12 goals in 36 appearances is hardly the worst case of SSS we have ever seen. But it was how his season ended which sticks in the mind. By the time the crucial title run in rolled round Hernandez was a mere shell of the player who took the League by storm in his debut season. He could barely control the ball and some wondered whether his flurry of goals the previous year had simply been the result of a less than assured first touch. I'm sure The Pea will return to form next season, after all there is no such thing as Third Season Syndrome. But a good rest is needed if we are to see sales of sombreros pick up again round Sir Matt Busby way.
Rating: 5
Highlight: The winner at Everton in the first game since the 6-1.
Lowlight: A particularly hapless performance at Ewood Park which was almost painful to watch.
Dimitar Berbatov
So the beguiling Bulgar is off then? Sadly there won't be too many United fans shedding a tear at the departure of our record signing. It just never worked out for Dimi at United. Right from the off something seemed amiss. Outrageously talented he may be but Berbatov and United just didn't go together. Fans will point to his goalscoring record as proof of his success but those stats hide the truth. He never did it when it counted. He never grabbed a game by the scruff of its neck and said "Don't worry lads, I got this".
To his eternal credit he maintained his silence when he was inexplicably frozen out of the team by a manager who had clearly lost all faith in him. Others would have ran to the press with sob stories and caused all manner of problems but Berbatov kept his counsel. But maybe that was his problem. Maybe he just didn't care enough. All the best Dimi, it wasn't the love affair we had hoped for but it had its moments.
Rating: 5
Highlight: A fruitful Christmas period which saw him bag six goals in three games.
Lowlight: Being consigned to the sidelines as his United career drew to an ignominious conclusion.
So that's then. There were others who played a part this season but most aren't worth mentioning. Michael Owen has finally slung his hook and vacated the number seven shirt he should never have been given in the first place. Darron Gibson's departure was long overdue and of great relief to all. Ravel Morrison made his long awaited debut before being kicked out of the club for misbehaving one too many times. Paul Pogba? Who knows.
But what of next season? Fergie has said there may be two, perhaps three, arrivals. A midfielder, a proper one that actually plays there, must surely arrive this summer. A striker too. But with those penny pinching parasites still running the club it is impossible to predict the nature of the club's business this summer. Just as well there's no value in the market then eh?